Dentures – Lakeway, TX
Come Get Your Bite Back
Oris Dental Studio offers denture services as part of our restoration dentistry offerings. While dental implants have grown in popularity, dentures have been used for teeth replacements for many years. Depending on multiple factors, dentures from our Lakeway dentist are still very much a preferred option by many. Our services are offered to those residing in the Bee Cave, Lakeway, and The Hills, TX areas. If you'd like to find out whether or not it's right for you, continue reading or give us a call today to schedule an appointment.
Who Is a Good Candidate for Dentures?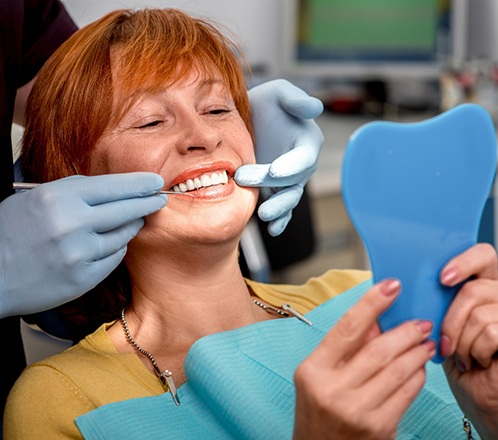 Whether you're missing a few teeth or an entire arch, dentures could be the solution for you. To find out if this smile-rebuilding option is right for you, visit Dr. Pedersen for a comprehensive exam during your initial consultation. If any untreated dental issues such as tooth decay or gum disease are identified, we will incorporate the necessary care into your treatment plan to ensure your oral health is in optimal condition, giving you a stunning smile you can be proud of.
Types of Dentures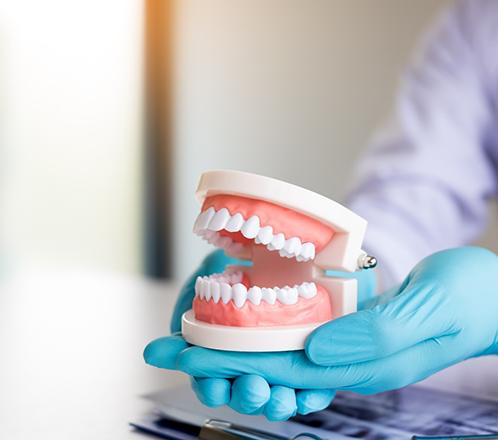 Oris Dental Studio provides a variety of wholesome restorative dentistry options. Our expertly trained smile consultants can recommend the best option for you or your family member. Our expertly trained dentist will recommend one of the following denture options depending on what's best for you:
Partial Dentures
As the name implies, partial dentures only replace some of your teeth. Using clasps attached to your remaining natural teeth, these dentures feature a gum-colored base and custom prosthetic teeth to flawlessly complement your existing smile. The result is a fully functional and undeniably beautiful smile that you can confidently enjoy.
Full Dentures
For those missing an entire arch of teeth, full dentures offer the ideal solution. Like partial dentures, full dentures feature a discreet, gum-colored base and lifelike prosthetic teeth. However, this option is typically secured in place using natural suction, denture adhesive, or a combination of both methods.
Implant Dentures
Implant dentures combine the best of traditional dentures with cutting-edge dental implants. Instead of relying on clasps or natural suction to hold your new smile in place, this restoration is anchored to a titanium post that is surgically implanted directly into your jawbone. This innovative approach ensures maximum stability, eliminating any unwanted movement.
The Benefits of Dentures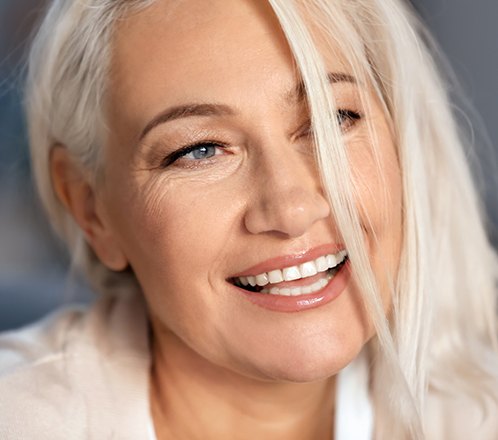 By choosing dentures in Lakeway, you can experience a wealth of benefits:
Effective bite restoration
Ability to enjoy a wider variety of foods
Improved speaking ability
Long-lasting prosthetics with proper maintenance (7+ years)
Easy-to-maintain prosthetics
Preservation of facial shape